Bliss out with my luxurious signature facial. We begin with a deep cleanse, then refining exfoliation aided by steam for gentle removal of impurities, followed by a relaxing and therapeutic massage of your face, neck, décolleté, hands, and feet, ending with a specialty mask, moisturizer, and sunscreen. Aromatherapy included. Your entire body and mind will be relaxed.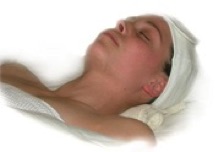 Teen Facial ($100)
This treatment provides a great opportunity for your teenager to learn to care for their particular skin type: especially acne and reactive skin. Teenage skin is vulnerable. Stress, hormones, environment, sometimes food, and often the use of inappropriate products affect it. The client will leave feeling confident and renewed. Prices for additional treatments may be negotiated (such as eliminating massage).
Men's Facial ($100

)
The Men's Facial includes all the features of the European Facial, but with special attention paid to the specific skin care needs of men. You'll receive deep pore cleansing, exfoliation, and massage to condition and soften skin often irritated by shaving and the elements.

Purifying Facial ($100)
Here is an opportunity for a fresh start in dealing with congested or problematic skin. It includes deep pore cleansing, a detoxifying clay mask, and extra time for any necessary extractions. You also get the relaxing and soothing benefits of a massage and aromatherapy. This one is great for smokers. You will feel wonderful.

Specialty Masks  to accompany facials ($20)
Specialty masks are designed to address your individual skin condition and make a wonderful addition to your chosen facial.
Microcurrent Turbo Facial ($100)
Ideal for people on the go, this quick lift gives you immediate improvement that lasts up to several days. Perfect for weddings, special occasions, in between appointments, when traveling or when you simply need a quick " pick me up". Only a 45 minutes to an hour application, the Turbo Lift* gives you immediate improvement in less time than it takes to have lunch. Enjoy a short series or just one application- it's flexible, fast, and effective! Benefits include:
• Exfoliation

• Rejuvenation

• Firming/ relaxing of facial muscles

• Reduction of sun damage

• Improvement of skin tone

• Promotes the skin's natural ability to produce elastin and collagen

• Enhances product penetration

• Aids lymphatic drainage

For a full description of Microcurrent treatments see our Microcurrent page.
•  Brightening

•  Age Defying

•  Acne

•  Purifying

•  Calming

•  Anticouperose ( Redness and Rosacea)