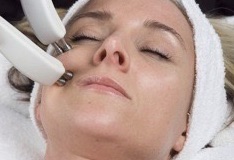 Enjoy a healthier, more youthful appearance with the ultimate in skin technology. Microcurrent is a low level current that mirrors the body's natural electrical impulses. Suzuki Sequencing Technology* pinpoints the optimum electrical combination output(s) that are statistically most effective for age defying results including increased circulatory benefits, increased production of collagen and elastin, and increased penetration and effectiveness of high quality products.
When used in conjunction with specialized products and manual manipulations, these tiny microcurrrent impulses replicate your body's electrical currents. The signs of aging are greatly reduced, while skin tone and elasticity are dramatically improved. These relaxing applications may be enjoyed as a one time, comprehensive facial, or in a series of applications to reach your optimal goals, as well as enjoy enhanced longevity of results.
*more about Suzuki Microcurrent.pdf
Microcurrent: the Nonsurgical Facelift $100 per session
Unlike a surgical facelift,this is a painless treatment with no recovery time. Instead, at the end of your session, you will feel relaxed and refreshed.
Utilizing probes, I will lengthen or shorten facial muscles via a series of contouring movements creating a more toned, tighter, and more youthful appearance. Results are typically visible after the first treatment. Microcurrent allows the beneficial serums, which include collagen and elastin, to penetrate below the surface of the skin, enhancing their effectiveness. These treatments are usually prescribed in a series of 7-12 sessions over a course of 30 to 60 days, with two treatments a week recommended for maximum results. Effects of microcurrent are cumulative, becoming more pronounced after each treatment.
Microcurrent Turbo Facial $125
Ideal for people on the go, this quick lift gives you immediate improvement that lasts up to several days. Perfect for weddings, special occasions, in between appointments, when traveling or when you simply need a quick " pick me up". Treatment time is 45 minutes to an hour. Enjoy a short series or just one application- it's flexible, fast, and effective!