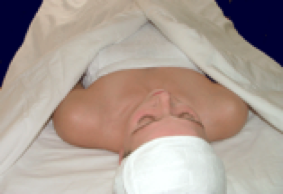 Back Treatment: $100


Enjoy the pure relaxation for one of the most neglected areas of the body. It begins with skin analysis, deep pore cleansing, refining exfoliation; extractions (as needed), plus neck and back massage including lymphatic drainage with aromatic, essential, stress relief oils. A treatment that leaves you feeling relaxed and rejuvenated.
Body Wrap $115


Surround your body in a warm thermal blanket to relax and soothe your tired muscles, renew stressed skin and impart nutrients to your entire system. We start with a dry brushing of the body, followed by the application of the fabulous organic Hungarian mud. You are then swaddled in a warm wrap on the heated table for thirty minutes. This time allows the mud to detoxify, tone, rehydrate, and remineralize your skin. The mud is removed with hot steam towels and finally you are rubbed with velvety moisturizing oil.
Foot Treatment $45
First your feet soak in eucalyptus salts, which is followed by an exfoliating scrub, a cream massage, paraffin dip, and more foot massage. While this is not a pedicure, I will paint your toenails if desired.

Paraffin Dip $20
Give your hands and feet a little pampering. Start with exfoliation and massage. Then experience the soothing and deeply penetrating effect of the many-layered paraffin dip.